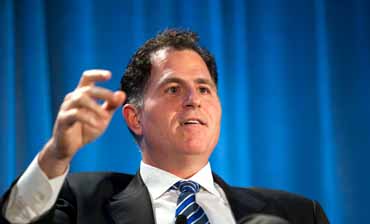 Michael

Dell
Gone is the bitter battle to take Dell private. Gone is the Wall Street spotlight. Gone are corporate raider Carl Icahn and his biting tweets. Now comes the hard part: transforming what founder and CEO Michael Dell is calling "the world's biggest startup" into an enterprise solutions channel power.
Just weeks after shareholders approved Michael Dell's $24.9 billion leveraged buyout of the company he founded in 1984, he told solution providers attending CRN parent The Channel Company's Best of Breed Conference that he would like to return to the event in the future and be recognized as "your best partner."
That's a pretty lofty ambition for a company that prior to 2007 had no channel program to speak of. Today, the channel represents about $15 billion, or 25 percent, of Dell's nearly $60 billion in annual revenue. Michael Dell has said that the percentage of Dell sales going through the channel has the potential to reach as much as 60 percent of the company's commercial sales—with no limit on just how high it could go.
But when you compare the size of the Round Rock, Texas, company's channel business to some of its rivals, it's clear that Dell has a lot of catching up to do. Seventy percent of Hewlett-Packard's $110 billion in revenue comes via the channel, putting its channel business at $77 billion, more than five times the size of Dell's channel business. Cisco Systems' channel business, meanwhile, accounts for around $39 billion, or 80 percent of its $49 billion in sales, according to the company.
Michael Dell is no longer a brash 23-year-old CEO with nothing
to lose. At 48, he is betting on a successful second act, leveraging
his experience and, more importantly, Dell partners in his quest to
get a bigger bite of the multitrillion-dollar IT solutions apple—a
market of which Dell owns a tiny sliver.
Transformation is hard work. Michael Dell's critics say the
culture and internal politics of the company must change. Key
to growth is more effectively leveraging Dell's 140,000-strong
army of worldwide channel partners. And Dell must burn its image
as a low-cost hardware supplier and convince the world it is
a full-solutions player.
Dell is moving quickly to get there. Only 20 days after its stock
was delisted from Nasdaq, the company moved to tightly integrate
its channel business into its sales organization in a move that
Dell himself said is designed to accelerate channel sales growth.
The changes, which came just weeks before the start of Dell's annual Dell World customer and partner event, put both direct and indirect sales under one organization. The company also named a new president of North America, Bill Rodrigues, and a new vice president of global channels and alliances, Cheryl Cook. Partners said at this point it is difficult to tell whether the duo will pivot toward a direct or indirect sales model. They said only time will tell.
Cook replaces longtime worldwide channel chief Greg Davis, who moves to a new role as Dell's vice president of software and peripherals. Davis started the official Dell channel program nearly seven years ago and helped build it into what it is today. "When we started the channel program back in 2007—because it was a relatively new effort—it kind of made sense to have it as a separate organization," Michael Dell told CRN in an interview the day after the news of the management shake-up. Dell said the changes are going to lead to "enormous" new opportunities for partners as Dell works hand in hand with them to grow sales. "We are going to be working even more closely with our partners to increase our reach and coverage," he said.
The net impact for partners: "Faster, easier, better and bigger," said Dell, who noted that the changes could very well allow the company to accelerate his stated bid to more than double the percentage of commercial sales going through the channel. "It is really up to our partners. There is no reason why we can't get there faster."
Ron Dupler, CEO of longtime Dell partner GreenPages Technology Solutions, a Kittery, Maine-based national cloud integrator, said he sees the management changes as a positive step. "Dell has been committed to the channel. And with these changes, it picks up even more velocity. It's streamlining for the future. Over the years they created a strong channel program — kudos to Greg Davis. Now Michael is moving faster to bring end-to-end solutions deeper into the enterprise and he's streamlining to bring partners with him," Dupler said.
That's just the way Dell's Rodrigues, who is overseeing North America channel sales, sees it.
"Dell's channel partners are now an integral part of the way that we communicate and work with our customers globally, and their feedback on our strategy and go-to-market is extremely important as we move forward as a private company," said Rodrigues in a statement emailed to CRN. "Our new structure came about partly in response to feedback from the partners and is designed to simplify decision-making and further optimize our operations."
NEXT: The Road To Success Goes Through The Channel
The Road To Success Goes Through The Channel
Today, Michael Dell doesn't talk a lot about how he reinvented the supply chain and pioneered selling direct. Now, he preaches the channel instead. Dell's future, he said, is dependent on solution providers. "Because of the mix of products and solutions we have now, the indirect channel sale is more profitable than direct," he said. "Channel partners are selling more software, more storage, more network, and more servers."
New key Dell lieutenant Cook, a channel veteran who ran Sun Microsystems' partner program from 2006 to 2010, is responsible for growing Dell's PartnerDirect program and continuing the momentum started by her predecessor, Davis.
"From a strategic lens, we have to expand and grow our presence in certain markets and portfolios where Dell is under-represented. There are too many opportunities to take, and we need more partners to help us grow," Cook said in an interview with CRN. Last year, the number of Dell PartnerDirect members increased 38 percent, according to Davis. But for Dell, Cook said, it's not about partner head count. Success in the channel is about building relationships between Dell, partners and customers.
Cook's partner approach will differ from Davis', she said, by stepping up an emphasis on sales of end-to-end solutions that drive Dell software and services deeper into the enterprise. That approach, she said, is a switch from the earlier focus on transactions on Davis' watch.
Davis is widely credited for creating and pushing the Dell channel more deeply into the company's direct-sales culture. But now the channel, which was a separate silo from Dell's direct business, is rolled into one organization overseen by Marius Haas, Dell's chief commercial officer and president of enterprise solutions.
Two of Dell's biggest challenges going forward will be training partners to cross-sell and boosting the number of top-tier Preferred and Premier partners that now make up only a tiny fraction of Dell's global partners. To that end, Dell is on track to deliver 250,000 training courses in 2013 and just introduced four new training programs in its most lucrative business line, software, according to Davis.
Cook said channel program changes could come as early as 2014. "Over the next month or quarter, I'm going to get a lay of the land. I'm not going to fix things that are not broken. But where I see areas that need modification and where we identify unique challenges or see unique hypergrowth opportunities, yes, we are going to absolutely move fast."
One of those changes, she told CRN, will be to incent partners to sell Dell's full portfolio of products, pushing end-to-end solutions from the client to the server, including security and converged infrastructure. She also said Dell will be working hard to shore up its field engagement to reduce channel conflict and strengthen partner sales.
Jed Ayres, senior vice president of partner management and marketing at MCPc, a $262 million Cleveland-based national solution provider ranked No. 89 on
CRN's Solution Provider 500 list, said the channel is more important than ever to Dell now that it has gone private.
"Dell is just an amazing opportunity for us right now because of the ubiquity of their brand in many of the accounts we are in," he said. "We see the ability to go wider and deeper with Dell with the acquisitions they have made. How are they going to get a return on those investments without the channel? The channel is becoming a much more important part of their go-to-market strategy."
Ayres sees Dell World as the most important event of the year for his business. "We are sending a small army to Dell World, bigger than any other partner summit all year," he said. "We are sending 16 people to Dell World because of the potential for sales growth."
NEXT: The Specter Of Channel Conflict