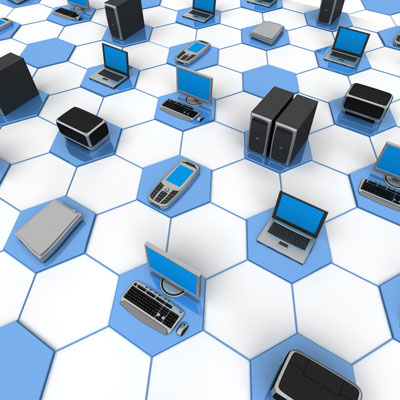 As mobility continues to grow in the marketplace, the amount of devices each of us juggle seems to grow every day. From cellphones (sometimes more than one) to tablets, laptops and desktops, there are more types of devices and more possibilities for operating businesses and personal lives. A study by Cisco says that by 2014, each person will have 3.3 devices on average, up from 2.8 in 2012.
At the latest Best of Breed Conference, hosted by CRN publisher The Channel Company, CRN asked the big question of elite channel executives: How many devices do you have? Some of the answers may surprise you.
Title: President

Company: Liberty Technology

Location: Griffin, Ga.

How Many
: 3
Ben Johnson said that he had three devices, an iPhone 5S, an iPad and a laptop. He recalled a conference he went to where a presenter asked attendees to raise their hands for how many devices they had, and some had more than six or seven devices, which Johnson said he didn't understand.
"That number, that surprised me. Now what are they doing with all of those devices? I don't know," Johnson said.

He said that he liked the simplicity of the iPad and the easy user experience.
He said that now that his iPhone 5S has a fingerprint scanner, it makes it frustrating to log into his iPad with the traditional passcode, and said that he hopes that the anticipated iPad announcement later this month will add it to the tablet line as well. Though he likes his Apple products and is an Apple VAR himself, he said he admitted that Apple is not the most channel-friendly of companies.
Title: President

Company: MMY Consulting

Location: Indianapolis

How Many:
2
Bill Monachino said that he only has two devices that he uses regularly: a Samsung cellphone and a laptop.
"I'm going to bring the average down!" Monachino joked.

He said that he does have a tablet, but he doesn't use it very much or bring it with him on business because he sees it more as a device for fun. He said he has tried using it for business but, other than for a quick email check, it hasn't been very productive for him, calling writing a document "painful."
"I've completely come to the conclusion that tablets really are only good for readers and music. It's just too hard to work on," Monachino said.
Monachino said that he is looking into some of the newer touch-screen laptops as a possible upgrade for his current laptop, but he isn't sure if he is ready to make the switch to Windows 8 just yet.
Title: VP of Sales and Marketing

Company:Techcess Group

Location: Houston

How Many:
3
Jason Wright was travelling to BoB with his tablet, notebook and iPhone.
"I try to just have three devices. I'm behind the times," Wright joked about being below the average.
He said he hadn't really thought about adding a smart watch to his collection, though he did admit that the commercials were pretty cool. Wright said he also has a desktop PC at home to minimize the amount of devices he has to tote around.
"The whole idea for me is that I don't want to have to travel with a laptop anymore, so I can log in from my home PC. I leave my laptop at work and then I have my tablet and my phone on me," Wright said.
Title: VP Sales, Marketing and Professional Services

Company: Signature Technology Group

Location: Phoenix

How Many:
4
Aaron Zeper said that he had three devices on him currently, but he has a family desktop PC at home and a Windows tablet that he also uses sometimes. He said if you count Internet connected devices, he has a ton more, ticking off a list of a slew of technology around his home.
"You get into the connected things and it starts to get absurd," Zeper said.
He said that he usually travels with his laptop to take advantage of longer flights to power through presentations and legal work. The next big purchase for him? A detachable Lenovo that runs on Windows.
"It shrinks your device count, which is nice," Zeper said.
Title: CTO

Company: Quest

Location: Sacramento, Calif.

How Many:
3
Mike Dillon travelled to BoB with an iPad, a Surface-like laptop and his iPhone, he said, though he added that he has more at home.
He said that his favorite device is the Surface because it has more business capabilities than his iPad.
"I like it because [iPads] are great, but going through a Word doc on an Apple product is a pain in the rear, especially if you're doing edits and watching changes and those things. Actually [my iPad] is fun if I'm just doing email and surf, this is cool, but if I know I'm going to do a lot of documentation ... I use my Surface," Dillon said.
Title: CEO

Company: Cumulus Global

Location: Westborough, Mass.

How Many:
4+
While he waited for the next presentation at BoB, Allen Falcon said that he had his smartphone and a Chromebook with him. However, he also had a Lenovo laptop and an Android tablet up in his hotel room for meetings he was having with other BoB attendees.
He said he has more devices at home, but he mostly uses his phone and laptop.
"iPad and Android tablets are more about tools for sales, demo systems, demonstrate the integration of what we do, things of that matter," Falcon said.
Title: Senior Partner Marketing Manager

Company: Emerson Network Power

Location: Atlanta

How Many:
5
Paul Mounkes said that he has two laptops, a phone, a desktop and an Android tablet. When asked which device he used the most, he waved his phone that was on the table in front of him.
"Probably my work laptop I use the most, but next to that my phone," Mounkes said.
He said that it wouldn't surprise him if most of the people in the business had way more devices than average.
"You're asking a bunch of tech people, I can guarantee you're going to get more than 3.3 [devices per person,]" Mounkes said.
Title: Managing Partner

Company: Sovereign Systems

Location: Norcross, Ga.

How Many:
3
Matt Cadogan said that he has three devices: a laptop, tablet and phone, all of which are Apple. He said that he uses the phone the most for both business and personal tasks. He also has a desktop at home, and a Mac.
"Ease of use, foolproof ... it just works," Cadogan said of why he chose to run all on Apple.
Title: President

Company: Sacramento Technology Group

Location: Folsom, Calif.

How Many:
4
George Usi said that he carries his iPhone, iPad, laptop and a MiFi device to keep it all connected to the Internet. He said that he usually uses the laptop the most because of its better connection to the cloud.
"It"s because a lot of the cloud app that I'm using, the tool sets, aren't quite converted to tablet versions to 100 percent of my satisfaction. As they start converting ... the transition will not be my choice, it will be the cloud provider's," Usi said.